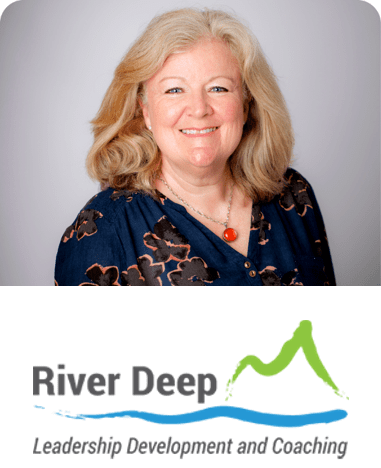 Qualifications and Experience
Qualifications and Experience
CTI (Coaches Training Institute) Leadership Programme
Certified Professional Co-Active Coach (CPCC)
Small business owners, yoga teachers, non-business people
Leaders and managers from multinational organisations and NHS
Volunteering with the Humanitarian Coaching Network to support people working in front-line crisis situations in remote parts of the world
Languages
Fluent English
Intermediate level speaker in German and Spanish
River Deep Coaching
Sharon Hall, principal of River Deep Coaching, International Career & Life Coach
She is one of the most intuitive and empathetic life and career coaches we have ever had the privilege of meeting.
"In a few sessions Sharon helped me to find a direction and focus on some important issues in my life which opened up possibilities and solutions I could never have imagined." Partner, Global Tax and Advisory Firm
Sharon's clients are constantly surprised by what they learn about themselves and find that they are soon able to take the next step on a more focused, clearer path.
"Sharon is a truly talented and dedicated coach. She possesses an enviable depth and breadth of knowledge as well as an uncanny empathy with her clients. Her skills shine through in her sessions and her authenticity, humility and humour make them both enjoyable and highly effective. Sharon was instrumental to my mid-life transition from accountant to Yoga teacher and therapist. I have consulted with Sharon many times over the years and cannot rate her highly enough." Sally Collins, Founder Life Long Nurture.
Sharon is based in the UK with clients from all over the world.
"When it was time to consider my 2nd Act I immediately turned to my long-time coach, Sharon Hall, to help me navigate those uncharted waters. Sharon accompanied me step by step, helping release my fears, create a visualisation of what my 2nd Act could, be and the necessary small and big steps that I would have to undertake. And of course she was my biggest cheerleader all the way, which added energy to mind and eventually brought me to a wholesale life change. I cannot thank her enough for the help she gave me to make the biggest change in my life ." Gregory Enjalbert, Co-Founder, The Agency Factory.

"I have had the chance and privilege to be coached by Sharon when I was in a complete void, in a complete confusion of where to take the next steps in my career journey. Sharon takes you to places inside you that you never knew existed and helps you reveal who you are, what you want and tune to your  feelings in a very powerful way and give you the confidence to believe that you are worth asking and worth getting what you want. With Sharon I have been able to create my Part II, shaped around my true ambitions  and in harmony with my values. I cannot thank you enough Sharon."
Gaele Lalahy, COO balance (Femtech startup)
Contact River Deep Coaching